Riders of all skill levels can now enjoy a safe and comfortable landing on a big inflated air cushion. Whether you're a beginner willing to experience your first jumps or a dedicated athlete looking to go to the next level, there's something for everyone.
WHAT IS A SNOWBOARD JUMP AIRBAG?
You can practice your freestyle moves safer and faster than anybody else with the snowboard jump airbag. SNOW BOARD AIRBAG has revolutionary air pocket technology with several air vents that allow ski as well as snowboard riders to land and ride away safely after landing a trick. Because the landing airbag is shaped like northern slopes, the athlete can ride out the landing as if it were a competition. This snowboard and freestyle ski airbag will assist athletes in reaching new heights in their chosen sport.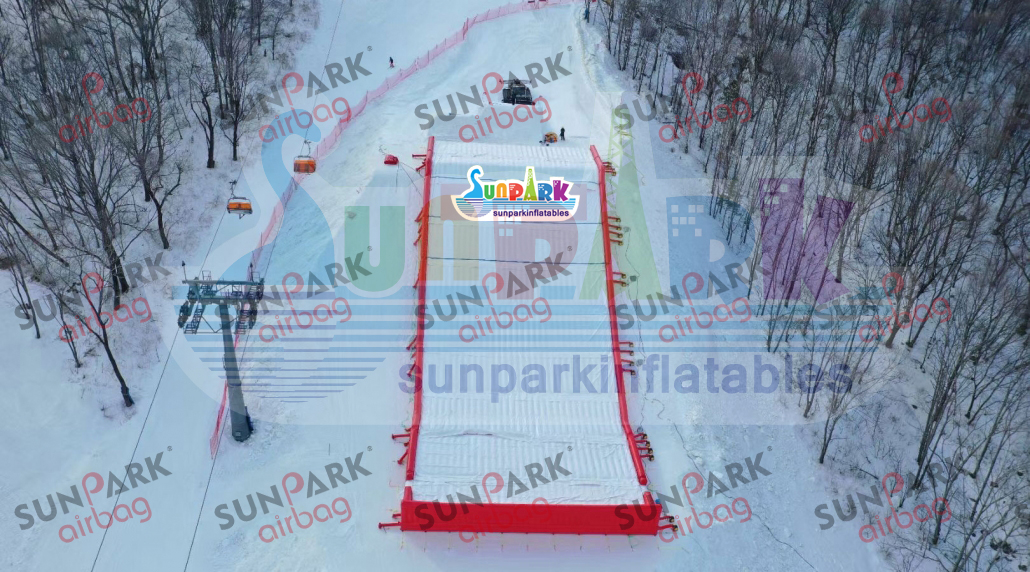 * TWO CHAMBERS SYSTEM – Upper chamber is gentle for landing, the lower or second chamber is hard as a basis. To discourage jumpers from sliding down the side, the air pressure throughout the side bumper was the same as in the bottom chamber. The landing airbag's accurate landing angle makes it a perfect freestyle training tool for skiers as well as snowboarders who want to learn quickly while minimizing the danger of damage!
* VENTILATION SYSTEM – Based on the athlete's choices and training goals, various adjustable air vents allow for accurate and independent modification of the suppleness of both the top and bottom airbag chambers.
* STOPPER – Stopper is a 2m tall device that prevents skiers or snowboarders from slipping down the end.
* ANTENNA SYSTEM – There's an Anchor D ring that is constructed of stainless steel and has a longer working life. For almost all of our airbags, there is one anchor point every 2 meters, with straps that go all the way completely all-around airbags for strong fixation.
* TOP SHEET IS REMOVABLE AND REPLACEABLE – It's detachable and replaceable unless it wears out. Sandwich Velcro adheres to the top sheet securely and smoothly.
* AIRBAG MATERIALS – The most sophisticated 0.55mm PVC Tarpaulin was used to create this product. It's water-resistant, UV-resistant, flame-resistant, and also has high tensile strength. The interior material is PVC 1000D, which is ideal for high-tension shape fixation.
APPLICATIONS FOR A SLOPED LANDING AIRBAG
SOME OF THE APPLICATIONS OF INFLATABLE AIRBAGS FOR LANDING ARE:
From dirt to snow, the LARGE LANDING AIRBAG provides fail-safe protection for novices and pros. For year-round training, the Landing Airbag could be utilized for skiing or snowboarding on snow or even on a dry slope in the summer, BMX or FMX.
Riders on snowboards and skis can practice any trick they wish in a safe atmosphere, whether they are beginners or experts. It could be used in the snow or for dry slope practice within the summer. With its innovative air-chamber technology and various air vents for changing pressure, participants feel comfortable and safe as they descend on the Freestyle Airbag.
LANDING WITH NO BOUNCE AND TRAINING
When you land on it, the Inflatable Landing Ramp is of greater quality and does not bounce. The Airbag Landing Ramp will undoubtedly reduce your risk whenever you undertake FMX or Snowboard training or shows thanks to its unique multi-air pocket technology. If you're a beginner, the Inflatable Landing Pad is the ideal tool you can use to train, enhance the tricks, plus avoid injury.
SNOWBOARDING WITH A SAFER JUMP
This airbag would permit skiers and snowboarders to properly ride out of the tricks, permitting them to securely learn new skills before putting them on the snow.
Anyone who has trained to backflip, frontflip, or does any other trick on a motorcycle knows that it's one way to do that in a foam pit and quite another to do it on dirt.
AIRBAG LANDING ON A MOUNTAIN BIKE
This airbag is completely customizable, which means it could be made to fit almost any landing surface, ramp, slope, or contour. The Mountain Bike Airbag is made up of two layers featuring adjustable air vents that allow you to alter the firmness of both top and bottom airbag chambers based on your preferences as well as training goals.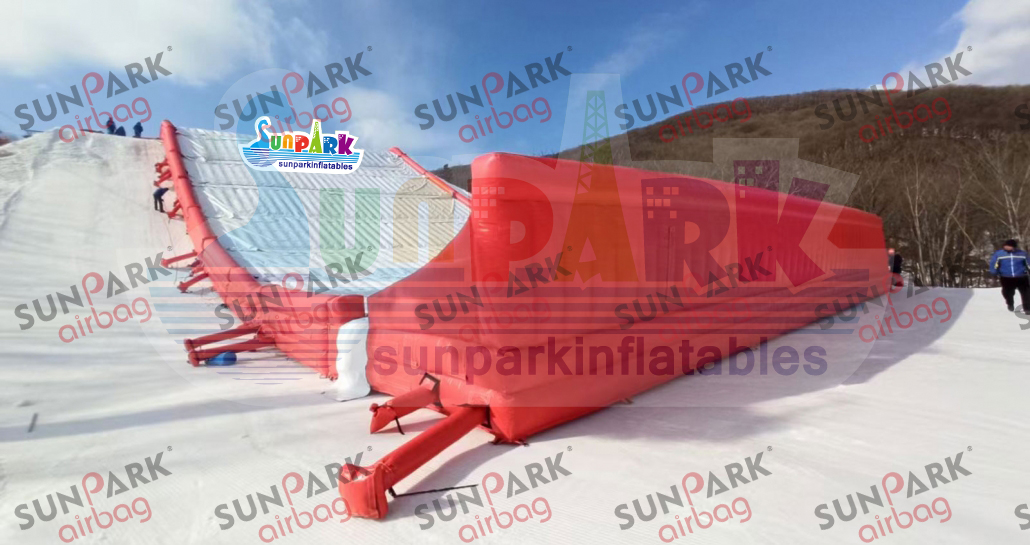 SUNPAR AIRBAG SUPPLY VARIOUS SPORTS AIRBAG
SUNPARK Sport inflatable Stunt Airbags Advantages
Impact absorption system with 2 layers
Softening air vents
Side bumpers to prevent jumpers from slipping down the side
The stopper at the end to keep jumpers from sliding off the end
Removable as well as a removable top sheet
Logo branding via printing
Anchoring mechanism for fixation
Where it counts, strong reinforcements are made
Warranty of two years
CONCLUSION
If you're looking for landing airbags for snowboarding, there are a few good options. Landing airbags are intended to prevent injury when you land. Reliable CHINA MANUFACTURERS provide you best landing airbag products at affordable prices.