WHAT IS GYMNASTICS AIRBAG?
A gymnastics airbag is designed to support all your gymnastic activities. You can get a portable, foam pit, and stand alone airbag for your gymnastics facility. Also, you can consider having one for your school and park.
The benefits of gymnastics airbags are that they are easy to carry and easy to use. If you choose the right one, you can get quality material and prevent injuries. As these are removable and replaceable, you can use them for different sports and other settings.
A gymnastics airbag can serve many purposes. However, you will have to buy a well-designed and durable product to ensure better usability. Also, you will have to consider the maintenance and landing requirements to use your airbag for a long time. In the following, we will cover five tips that you can check to find a suitable gymnastics airbag for your purpose.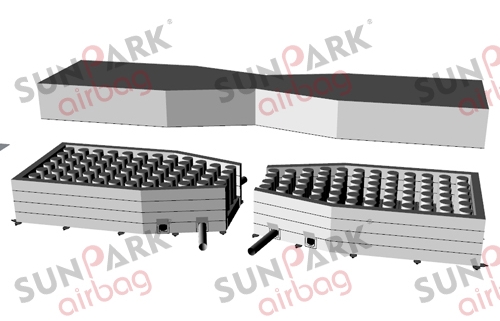 5 TIPS FOR CHOOSING QUALITY GYMNASTIC AIRBAG
1. HYGIENE
Gymnastics airbag pits come in different shapes and sizes. You can choose any based on your unique needs. However, you will have to take care of the hygiene factor. You will have to make sure that the material does not collect or accumulate dirt and dust particles. Also, if the material absorbs sweat, it might cause health issues. Therefore, you will have to choose a material that is soft and meets the hygiene requirements. Otherwise, you might develop skin and other issues after using the airbag a few times. Some toxic materials can accumulate more sweat and other dust particles. That might lead to respiratory problems.
2. SAFETY
Safety is another consideration. You will need a comfortable and safe ground for jumping. You will not like to bury yourself under the toxic foam after every jump. You will need an airbag that ensures a soft and safe landing. Make sure that the design and material can absorb the impact uniformly. Also, you can focus on the tricking. It can help with correct landings. With regular landing practices and safe and comfortable materials, you will feel more confident.
3. CLEANING
You will have to go through the cleaning requirements before making a decision. If the product requires a lot of care and maintenance, you will have to spend more time and effort on cleaning. All your family members or staff will be spending their time on your gymnastics airbags upkeep. Therefore, you will have to ensure that the airbag can be cleaned easily. Also, there should not be any specific cleaning requirements. More importantly, the material and design should not demand frequent maintenance. You will have to choose a product that you can use for a long time with minimal care.
4. NO DUST ACCUMULATION
An airbag can collect dust and impact the health of users. If you have asthma or other respiratory issues, you will have to go with a safer option. You will have to make sure that the airbag maintains cleanliness for a long time and creates a safe and favorable environment for all types of users.
5. SOFTNESS
A gymnastics airbag needs to be super comfortable and soft. If the material is heavy and uncomfortable, you cannot practice for a long time. You might experience a bit of pain after using the airbag. Therefore, you will have to check the material and its softness before making a decision. It is better to go with a soft material even if it costs more.
Now you know the things that you should consider while buying a gymnastics airbag. Next, you will have to choose an airbag that meets all the above requirements. If you want such a product, you can consider the SUNPARK Airbag.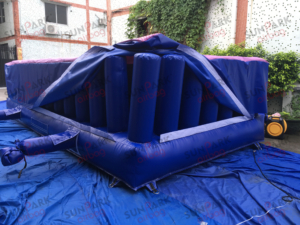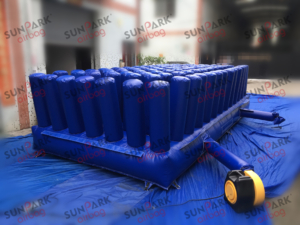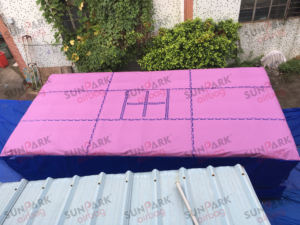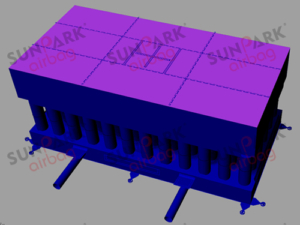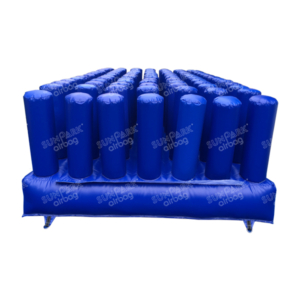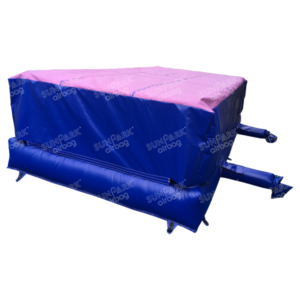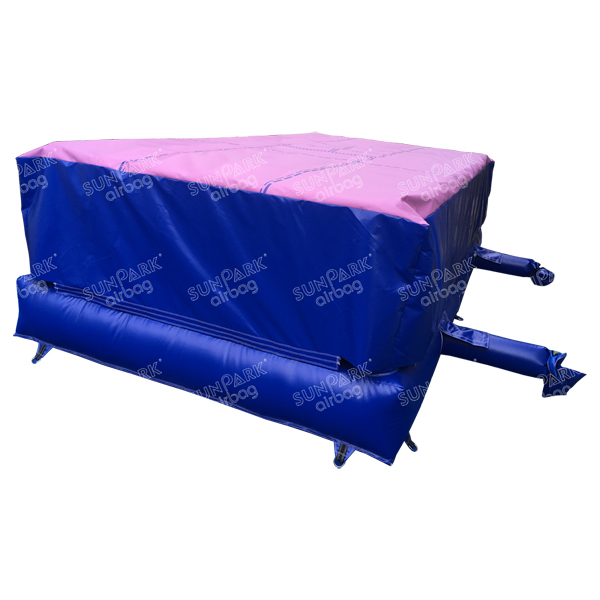 Welcome To Learn More Abouot Sunpark GYMNASTIC Airbags
SUNPARK AIRBAG IS GOOD CHOICE
SUNPARK Airbag can be the best choice for your sports facility. It combines all the features that include softness, comfortable and safe landing, and durability. With this airbag, you can expect safe impact absorption and soft landing. There is a unique air chamber to prevent ground contact and make landing comfortable. Also, you can have a simultaneous landing. Apart from that, the top sheet is replaceable, and that makes the product hygienic and durable.
In addition to the above, you can ask for customized solutions to meet your specific landing requirements. Also, you can choose from replaceable or permanent branding. More importantly, you will get two years of warranty support.