Landing Airbag is a breakthrough invention that has revolutionized action sports. A freestyle landing airbag offers a complete cushion to your fall and helps you in the training for action sports.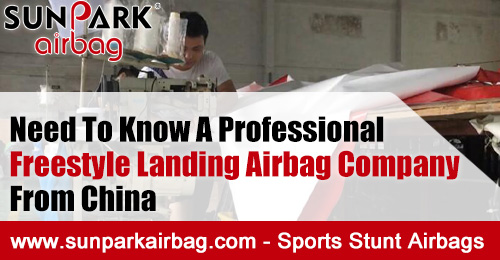 Whether you are practicing for a Nitro Circus action or the first jumps at a snow skiing event, the landing airbag makes your crashes softer and ride away with your trick. That's why it's a preferred training tool for FMX, skate, bike, and scooters. Safety landing airbags are the best training tool for snowboarding and skiing on the winter snow as well as the summer dry slope.
Typically, the top sheet of a landing bag does not allow you to stick up with it, and that precisely helps you avoid injury.
Landing airbag suppliers offer 3D models as per your specifications and your logos so that you can show it to your partners and sponsors.
Following are the key features of China Airbag Company
· Airbag with multiple air pockets, 2-layer
· Softness adjustment through venting
· Advanced dirt or snow anchoring system
· Custom built to suit your needs
· Non-Stick top sheet
Bike landing airbags offer the ultimate soft landing for you and your bikes all-year-round. It gives you the convenience of doing your practice in a safe environment whether it is for fun or a professional event. The safety landing bag is secured to the dirt or wooden landing already in existence or specially created inflated hill. It offers an amazingly soft fall making the participants crash freely without worrying about consequences. Freestyle landing airbags are a true game-changer in freestyle and action sports. Bring a landing airbag to your facility and see how easily, safely and quickly the participants learn freestyle tricks.
Skate landing airbags are available for both indoor and outdoor facilities. They can be customized to your specific requirements in terms of size and shape. These airbags can be secured on top of a regular landing made either of scaffolding and wood. If your facility does not have a landing, you can procure a landing hill, which can be useful also when you want to travel with your skate landing airbag to different tournaments and events as your mobile landing.
Ski & Snowboard landing airbags are exceptional powder landing gear for year-round use. It allows trainees to have a safe and reliable environment to carry out their freestyle practice for fun or professional training. These airbags offer the ultimate soft landing to the participants. The landing bag is secured with an existing landing. It works like a powder landing that allows the sportspersons a worry-free freestyle crash. There is no apprehension of a hard landing. This game-changing sports tool is a much-needed asset to your freestyle training facility. When you train in a landing bag, you train faster and safer.
FMX landing airbags are as tough as it can get but soft enough for the riders to not feel the crash at all. The top sheet is strong but soft. There are no hard materials such as metal rings inside the airbag. This makes the landing on these airbags completely safe. The sizes can be customized. Those who do their practice on landing airbags can learn to flip in the air faster and graduate to higher levels sooner. This ensures that the players can do enough practice in the safe environment of the landing airbags that they can do the stunts safely during real events.
Light & transportable
Landing bags are made with custom-produced materials that make the surface of the bag very tough but keep the overall weight light. These airbags are so tough that they withstand the landings of the heaviest FMX. But in terms of weight, they are typically below 500g/m2, making it easy to move around with it. If you have an action sports facility, you know the difference of 10 people required to move around a huge landing bag than only 5 people doing the same job.
Final thoughts
Landing airbags are extremely useful for people involved in freestyle and action sports. They have game-changers ever since they first appeared on the scene. They allow participants to do their practice without any fear of a hard landing. This is a must-have tool for all sporting facilities involved in freestyle or action sports.
China Airbag Company manufactures all kinds of landing airbags. You can also find numerous landing airbags suppliers based in China. Whether you are looking for freestyle landing airbags or safety landing airbags, you can find them all from China Airbag Company.