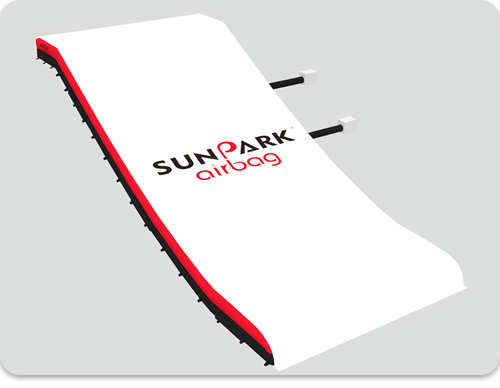 SunparkAirbag® Landing Airbag has 2 chambers with multi-compartment air pockets inside. There are some air vents both sides for softness adjustments. Side bumpers is optional to keep jumpers away from sliding off the side. The material we used is the best brand in China named "PLATO" that is used widely in inflatable industry, it is water-proof, flame-retardant, UV-protected and Eco-friendly.
Top sheet is seamless and soomth instead of sewing. SunparkAirbag® Landing Airbag is used for indoor and outdoor facilities, such as SNOWBOARD, SKI, SKATE, BMX, FMX, FREESTYLE ACTIVITIES etc. Olympic Size landing bag is available for Olympic Team training freestyle winter sports.
Inflatable FMX Landing Airbag for Safer Practice
The SunparkAirbag® Landing Airbag offers fall safe protection for beginners and pros, from dirt to snow. The Landing Airbag can be used for skiing & snowboarding on snow or on a dryslope in the summer, FMX or BMX, for year-round training. Our topsheet for FMX landing airbag is as tough as you can get.
Olympic Size Snowboard Landing Bag for Ski Resorts
SunparkAirbag® is the first supplier of Sloped Snowboard Landing Bag in China. With this Olympic Size Landing Airbag, snowboard & ski riders can train any trick they want in a safe environment, no matter you are beginner or pro. It can be set up in the snow or for summer training with dryslope. Participants feel soft and safe when they land on the Freestyle Airbag with it's unique air-chamber technology and multiple air vents for adjusting pressure.
No Bounce Inflatable Landing Ramp Airbag
Compare to other suppliers' airbag, SunparkAirbag® Inflatable Landing Ramp is in a higher quality without any bounce when you land on it. With the unique multi air pocket techonoly, our Airbag Landing Ramp will certainly lower your risk when you do FMX or Snowboard training or show. If you are a rookie, the Inflatable Landing Pad is the best tool for your training, improve your tricks and keep you from the injury.
Safer Jump Snowboarding Airbag Training
Many horizontally setup airbags require riders to land to their back, but due to the SunparkAirbag® alignment with the steep landing below the jump, our Snowboarding Airbag will allow skiers and snowboarders with the opportunity to effectively ride out of their trick, allowing them to learn new tricks safely before bringing them to snow.
Inflatable Airbag FMX Landing Mattress

With a SunparkAirbag® FMX Landing Mattress for your practice you are able to learn new tricks safely before finally taking it to dirt. Everyone who has learned backflip, frontflip etc. on a motorbike knows it is one thing to do it in a foam-pit and a whole different world to do it to dirt. If do it in a foam pit, you may get stuck and wait in gas fumes till you get pulled out by a crane.
MTB Airbag Landing

The shape and size of the SunparkAirbag® MTB Airbag Landing are fully customizable meaning it can be manufactured to cover virtually any landing surface, ramp, hill or contour. The Mountain Bike Airbag consists of 2 layers with adjustable air vents for adjustment of the firmness of both the upper and lower airbag chambers depending on athlete preferences and training targets.
Bike Landing Airbag

Inflatable Bike Landing Airbag is extremely safe, durable, highly transportable and will last much longer than foam. Mountain Bike Airbag Landing is designed with the latest absorption technology, which minimizes impact during a fall and eliminates the catapult effect. You can take it or use it ANYWHEREE, just move it around to different events or set it up in your backyard.
Skate Airbag Skateboard Scooter BMX

Compare to foam pits used for bike and skate, SunparkAirbag® Skate Airbag has too many benefits. Skateboard Airbag is extremely safe, durable, highly transportable and will last much longer than foam. Advantages like: Easy and fast installation, Easy to clean, Low maintenance, No toxic dust, No health concerns – Gradual impact absorption, Easy and quick exit, Increased jump frequency, Compact storage, Weatherproof, Fire retardant, No loss of keys, phones or other items
Bike Airbag Lander

Many athletes use the Bike Airbag Lander nowadays, it is a perfect tool for learning tricks and protects riders from injury. The MTB Airbag Lander is different from others because it is more prominent in design and its structure. SunparkAirbag® BMX Airbag Landing is portable and easy installation.
Snowboard Airbag Jump Landing

The SunparkAirbag® Sloped Airbag Landing is allowing freestyle ski and snowboard enthusiasts to take their training to incredible heights. The Snowboard Airbag Jump Landing is in the shape of a mountain slope and acts like a real powder landing to give participants to the ability to perform any snowboard trick or ski trick they want in a safe environment for fun or their competitive career.
Airbag for Snow Sport
SunparkAirbag® proudly presents its large size landing Airbag for Snow Sport officially. With this sloped Landing Airbag you can practice your freestyle tricks safer and faster than anyone else. With its unique air pocket system with multiple air vents, Snowboard Airbag allows ski & snowboard riders to land and ride away safely if the trick is landed. This ski airbag for snowboarding and freestyle skiing will help the athletes to archives a new level in their respective sport.
Dirt Bike Jump Landing Airbag
The Dirt Bike Jump Landing Airbag is designed to help riders improve their skills in a safer way and enhance their confidence. Compare to foam pits, Bike Jump Airbag is safer, more hygienic, easy set up and portable. Our Landing Airbags can be used for different sports, like mountain bike, BMX, FMX, scooter, skateboard, snowboard etc. Use Mountain Bike Airbag Landing indoors or outdoors as you need. No matter you are kids or adults, beginner or professional, can have fun on the airbag and make a fast progression.
Airbag for Ski and Snowboard Riders
A whopping Airbag for Ski and Snowboard Riders at 55×20 meters, built by SunparkAirbag®, will help freestyle skiers and snowboarders to train any trick they want with a huge reduction to the risk of injury.
The Landing Airbag on Snow is in the shape of a mountain slope, skiers and snowboarders can effectively ride out of their trick instead of landing to their back, as if they were landing onto the snow. With unique air-chamber system both with multiple pressure vents, Ski Jump Bag is soft and smooth when you land on it, the heavy fall is cushioned.
Freestyle Landing Bag
SunparkAirbag® Freestyle Landing Bag is a new tool for freestyle skiers to help their developmental progress in the sport. Sloping airbag has the ability to give anyone the chance at slopestyle freeskiing and snowboarding.
With unique air-chamber system, Inflatable Big Air Bag likes a cushion to get you going from a trampoline onto the bag, onto the snow, as extremely soft and safe.
Ski Jump Air Bag
Conquer the slopes with confidence using our Ski Jump Air Bag. Designed for snowboarders and skiers, our Inflated Landing solution guarantees a safe and thrilling experience.