FMX Air Landing bag is a safety net for all thrill-seekers and adrenaline junkies in freestyle action sports. Inflatable FMX Landing Bag allows you to practices all the stunts and tricks without the fear of a big crush.
With a Landing ramp, you can enable your creativity for aerials stunts to flourish without fear.
The landing pad is weatherproof; It's simple to use and quick to put up. Using the inflatable ramp will not even require a hill. The landing bag is convenient for travel since it can be folded, thus taking up less space.
Sunpark decided to take into account the feedback and insight of famous riders Sunpark custom-designed a perfect Inflatable FMX landing Bag tailored to counter the needs of every client. In case you want a 30-degree angle or a steeper angle, you need not worry.
Features of FMX airbag landing
FMX landing pad packs various features, all aimed to support the hard falls, steep lands, and durability to last long.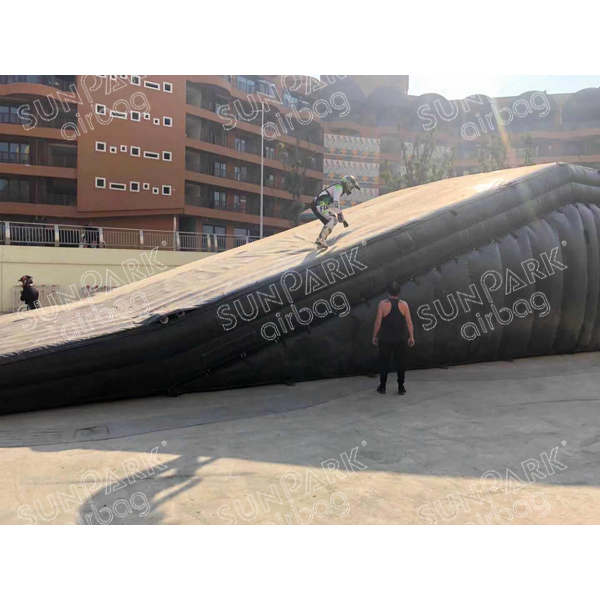 Equipped with an air vent for softness adjustment
State-of-the-art anchoring system for fixation
Logo branding with printing
2-year warranty
A solid inflated landing ramp
Two-layered chambers
Sturdy Dual D rings connection
Strong reinforcements placed where it's needed
A replaceable and removable top sheet
Understanding the features of FMX landing ramps will help you understand why it's a game-changer.
According to the user's preference, the Sunpark Airbag comes with an adjustable softness and toughness design of the lower and upper airbag chambers. There are multiple air vents installed to ensure that the landing ramp does adjust the softness efficiently. The air vent systems are designed to let out the entrapped gas to create a softer landing platform so that athletes can practice safely before pulling off their stunts onto a real landing ground or ramp.
The top landing airbag consists of two-layered chambers containing multi-compartment air pockets and a single chamber for inflated landing wedge below. The preference of angle can be customized upon request; however, it is commonly used in BMX, MTB, FMX, etc.
State-of-the-art anchoring system
The Anchor ring is made of stainless steel that is durable, ensuring a longer life span for all airbags present. All 2-meter one anchor points are fixed around the airbag to create a sturdy fixation to support your practice or the real show.
FMX airbag landing and the inflated ramp are secured by powerful dual double D rings made of stainless steel. The web strip measures 5cm wide, providing enough space and firmness for a rider to land.
Removable and Replaceable Top Sheet
The surface material is made out of a special coating with fantastic effects for a variety of sports. The Top sheets have unmatched durability and flexibility which can be removed and replaced once it wears out.
Landing Airbag Materials
Sunpark employs highly advanced 0.55mm PVC Tarpaulin (a coated fabric with mesh inside) created by a popular Chinese supplier 'Plato.' The material is waterproof, fire inhibiting, and has powerful tensile strength. The color and pattern are employed as requires upon order. Depending on the number you want, it takes about 12 working days to have your requested FMX airbag landing.
Sunpark has hand-selected some of the best workers with five years and above rich in experience to assure quality in production.
· SUNPARK AIRBAG AIR LANDING: THIS FMX air landing is made of two parts, the op part (landing bag) and the bottom (ramp). The two pieces are individual but are joined by some strong Dual double D rings with a web strip. The airbag landing will provide you with a soft landing and save you time and storage space, and it's commonly used for FMX, MTB, and BMX.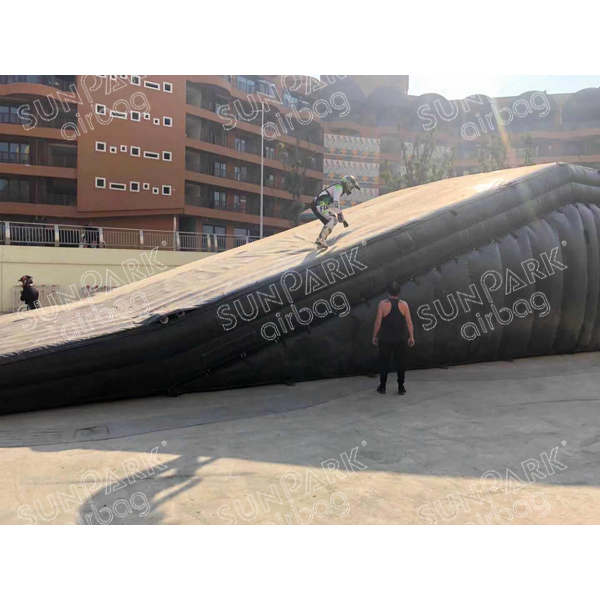 · SUNPARK AIRBAG LANDING AIRBAG: SunparkAirbag Landing Airbag has dual chambers with various compartments and air pockets. The vents are placed on both sides for adjustment of softness. This landing airbag is made out of famous PLATO material made in China. There are side bumpers employed on both sides to avoid sliding off from the side.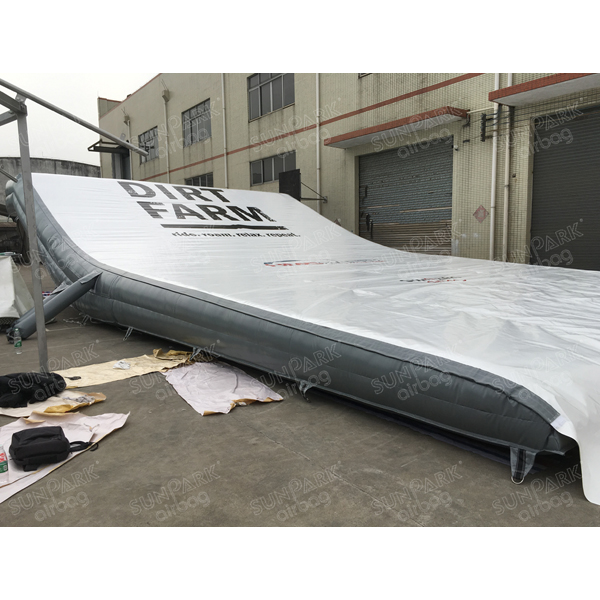 · FOAM PIT AIRBAG: This airbag has a unique air chamber unit in its lower parts to avoid ground contact. The foam pit airbag features four pillars that completely absorb shock making the landing impact as comfortable as possible. This airbag is used in many sporting activities, i.e., Trampoline parks, indoor freestyle, Gymnastics, snowboarding, ski and more.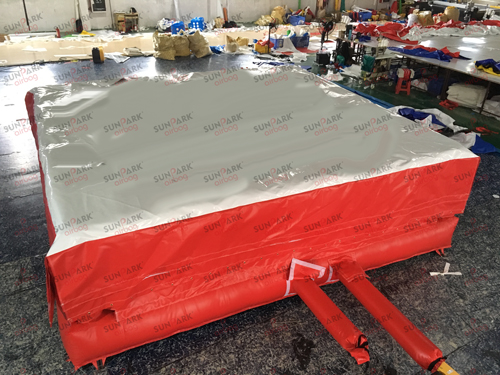 · CUSTOM AIRBAG: This airbag is built according to the client's intended vision once they come up with the idea, design, and color scheme. The specifications are handed down to a team of SUN PARK professionals to ensure that your final goal is met. You can decide to customize the airbag for trampolining, skiing, ninja warrior activities, gymnastics, or recreational activities.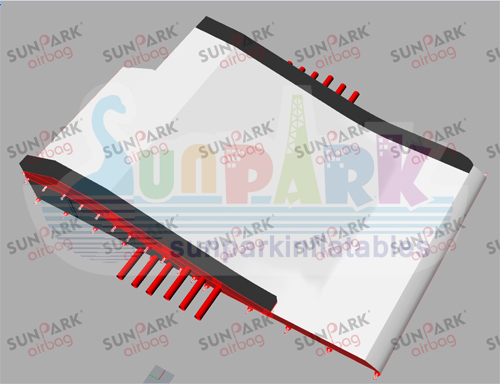 How much do FMX airbags cost?
Sunpark offers affordable prices for all the products with room for reasonable negations. The price of an FMX air landing bag is negotiated, depending on the size, design, and number of bags you need. Once purchased, the FMX air landing bag comes with a repair kit, blower, and a heavy-duty carrying kit.
Get in touch with Sunpark.
Sunpark is a highly recognized airbag manufacturing company that has provided quality, affordable and durable products over the years. Sunpark has gained recognition by working with big players like Olympics Training Facilities, Renown Ski resorts, Famous riders, and trampoline parks. The company has consistently manufactured and provided sporting airbags tailored to allow clients to achieve their intended goals by employing the best technics and materials.
Maintaining healthy communication is key in running a good business. If you need an FMX air landing bag, there are many channels you can use to get in touch with SUNPARK. The best alternative would be to contact via mobile phone through:
+85-15820256500
If you prefer using social media, here are some handles you can use to reach SUNPARK :
Skype: Sienna­_chen
WhatsApp: +86-15820256500
Email: [email protected]